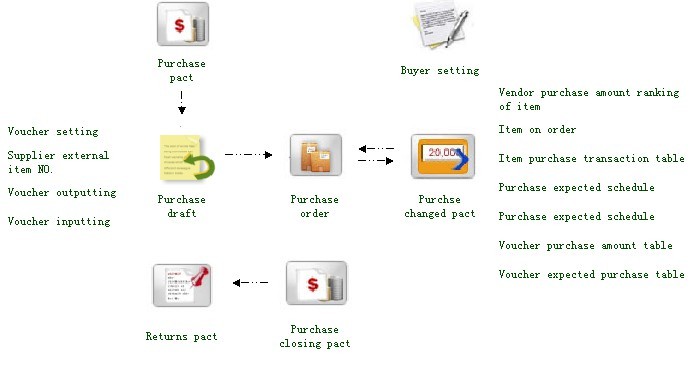 ☆Purchase Management System, provides enterprise procurement managers for effective and rational procurement, and regulates them effectively to improve the quality and timelines of procurement of goods, achieving timely and accurate manner the conduct of procurement, improving the efficiency of procurement; The system can provide business sector and productive sector the products they needed on time, ensure the business activities progress smooth and reduce inventory costs.
※Set Operations
1. Domestic Voucher Basic Data Setup
2. Abroad Voucher Basic Data Setup
3. Voucher Category Setup
4. Customer Factory Integration Setup
5. Voucher Trading Currency Setup
6. Voucher Trading Condition Setup
7. Voucher Delivery Condition Setup
8. Voucher Payment Condition Setup
9. Voucher Warehouse Setup
10. Voucher Invoice Address Setup
11.Voucher Billing Address Setup 
12. Voucher Multi-Contact Person Setup
13. Buyer Setting
14. Buyer Effect Upper Limit Amount Setup
15. Supplier External Item Number Setup
16. Purchase Category Setup
17. Return Category Setup
18. Voucher Contract Price Setup (General Price / Quantity price)
19. Purchase Price Order Setup
20. Procurement Number of Decimal Places Setup
21. Procurement Module Lockout Protection Setup
※Documents Operation
1. Purchase Pact: a. Commodities in "Order Assigned" which source of "Production" is named "Procurement" in Sales Module will be thrown automatically into Purchase Pact by system. b. Purchase Pact provides employees who have permission to request for purchase of commodities to type in insufficient stock of goods or pre-purchases of commodities. c. MRP module estimates the shortage for the stock provided by the proposed procurement, system documents recorded in the information of purchase department, purchase reasons, purchaser, demand commodities, demand, demand dates, and basic suppliers of commodities, to provide the buyer to collect the source of procurement requirements.
2. Purchase Draft is mainly provided to the buyer to determine suppliers and the purchase price of demand commodities. Quick Quote function let buyer easily document inquiry information to various product suppliers, prices, price validity, and delivery days; when buyer selects suppliers and purchase prices, the system will automatically transmit to correspond purchase order pact by supplier. If the products and suppliers in the purchase drafts are the same, the system will also automatically compute total purchases.
3. Purchase Order: a. it can be transferred from purchase draft. b. If do not use purchase pact and purchase draft, it may be also directly added to use. Documents record in the information of buyer, procurement status, requisition amount, purchase pact number, front mark, side mark, shipment type, delivery date, and case closed status. When the purchase order within the various items of goods is full purchase, the system will automatically display the status of the purchase orders as" closed". "Delivery date" provides management and trace of purchased goods, and relevant statements of on order information: a. Purchase Expected Schedule b. Item on Order c. Voucher Expected Purchase Table.       
4. Purchase Closing Pact connects to four management models: a. Inventory decrease b. Accounts Receivable increase c. Summons to produce d. Costs. If the documents in front does not used, it can be directly added. It can also be transferred from purchase pact; a purchase pact can be transferred to a purchase closing pact, more than one purchase pact into a purchase closing pact, a purchase pact fractionated into more than one purchase closing pact. All purchase closing pacts clearly recorded numbers of purchase pacts and commodity information in purchase pacts. The purchase pact provides withholding of payment management, so that goods could be shipped normally, but withholds payment for the goods until the voucher for troubleshooting or document operation and then open billable.         
5. Purchase Changed Pact is used for the purchase has been part of the purchase, but the content of goods on order is changed. It can make changes for the three components: the procurement quantity, unit price and delivery date. Clear records before and after changes in purchase changed pact.
6. Returns Pact provides two functions: a. Purchase Exit: inventory reduction, reduction of accounts payable, summons establishment. b. Purchase Discount: reduction of accounts payable, summons establishment.
※Inquiry Operation
1. Vouchers Fuzzy Query
2. Purchase Pact Books Query
3. Purchase Draft Books Query
4. Purchase Order Books Query
5. Purchase Closing Pact Books Query
6. Purchase Change Pact Books Query
7. Returns Pact Books Query
8. Each document and book can adjust the order of columns check by the user, can be saved as Excel file; Also provides a diversified multi-field angle of inquiries and order, which is flexible and convenient.
※Feature of Module:
1. If the voucher has signed a contract, then the purchase draft will lead the contract material, if not, and then lead history transaction prices or quotations.  
2.  For each raw material sets make up points, purchase points and nest egg. If the stock is below the point of purchase, the system will be a warning to alert the exclusive buyer of procurement, and recommended that the number of required purchases. If the number is correct, you can go directly switch to the procurement operations and carry out procurement.
3. Create and query procurement staffs' total purchase amount, once the amount exceeds the procurement will be sounded the alarm, and stop the procurement staff to continue to purchase, must have the relevant permissions of revise to limit to continue its procurement actions.
4. Purchase closing pact shows the number of receiving, sub-back number, pass number; payment amount should be a clear record of the quality of vendor deliveries.
5. The establishment of firms with internal control of the item, purchase order items are mainly to vendors.
6. Detailed follow-up requisitioning process, the reporting shows the latest status of requisitions of the goods.
7. Purchase draft built-in quick inquiry to provide an input of all procurement staff inquiry vendor information; the highest rate of firms will be the optimal supplier. The system will automatically bring in the supplier at the next purchase for reference.
8. After approval result input, may aim at the factory of produce goods approval situation comparison, and includes the report control, to control the quality of the voucher to produce goods.
9. Through the purchase pact, purchase draft, purchase order, purchase closing pact to complete the procurement process for purchase price reference and historical data of future audit.
10. Purchase pact, purchase draft, purchase order, purchase closing pact can be used flexibly in accordance with the actual process; for example: the company does not need requisition, and suppliers have been working for a long time, it can procure under direct purchase orders and does not necessarily need to start from the requisition.   
11. Voucher item management provides internal items correspond with voucher items, which can be quickly and easily searched.
12. Purchase information can automatically compile into purchase order by vouchers, buyers and currency.
13.Automated fast-track procurement receives from the MRP, order allocation, and nest egg suggested that auto-generated purchase orders, and track the procurement process by source.
14. Purchase changed; after purchase order part inventory, still might change quantity, delivery and price.   
15. Sales return; the system automatically reduces accounts payable, the reduced reserve, transfers to the summons.