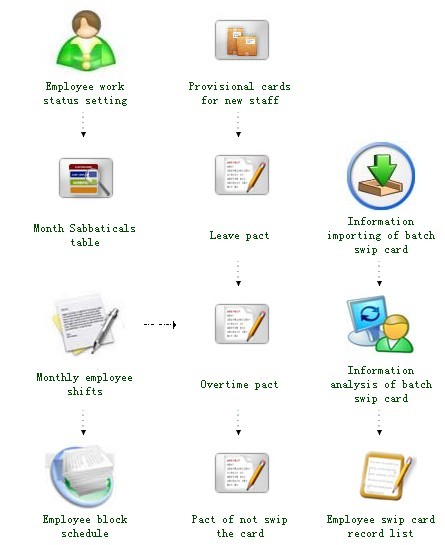 ※Automatically read information on punch card clock
Form your own settings, can be widely applied to different types of credit card clock
※Auto-approved attendance and absence records
Employee attendance and absence records will be approved automatically according to punch clock, leave pact, and overtime pact and then transfer to salary system   
※Button free for punching card
Setting whether to use work / overtime button when punch card
※Multiple attendance and absence appraisal system
Designated attendance and absence appraisal system for variety of office staff / manager / production staff / student-workers, distinction between normal shift / shift / any shift / flexible shifts / hours paid system / daily basis / piece rate system and so on
※Shift arrangement
Set monthly off days, and then set work on shift person for that month, you can set up batch employee classes, once set up all staff class information.
※Leave / annual leave management
Automatic reference to this employee's seniority table, only allows employees to take annual leave when it is more than set up period.
Leave and annual leave upper limit management, if it is more than the leave ceiling, the system will raise alerts.
※Overtime management
Setting work overtime according to the law / general weekends and national holidays work overtime corresponds to the payroll project.
※Late management
A. setting count for more than a few minutes late for an hour late, b. setting late enough the cumulative number of times also need to count a late
※Flexible working hour management
Set a certain period for flexible working hours, at that time to work over a fixed number of hours do not need to ask for leave
※Interim card management
New staff or temporary staff can be temporarily designated the use of temporary cards
※List of employees punching card records
Retain and view all the original punch card data to the employees
※Ultra / short pay approval
Divided punch card records of employees into a list of adoption and not used, not used records for reference use. Employee punch card records set up through leave pact and employee shifts, the system will automatically authorize and the hours of work overtime, leave, and absenteeism.